Wedding Video Packages
All my packages are customiseable if you don't see exactly what you want I can modify your wedding video package to suit you.
All Standard Packages Include:
ME Your amazing videographer
Multiple Cameras
High quality microphones and recorders
Your choice of music
Preview before finalised
Customised Wooden USB containing:
Instagram/Facebook Videos SAMPLE VIDEO
2-3 mins Short Highlights SAMPLE VIDEO
10-15mins Highlight Video SAMPLE VIDEO
Full Ceremony Video .SAMPLE VIDEO
Full Speeches and Reception Formalities
Uncut Raw footage
Standard Packages
EXTENDED HIGHLIGHTS $350
20 - 30 Mins in length.
READ MORE

EXTENDED HIGHLIGHTS
This longer highlight is edited using a time-shift editing style similar to the 10-15min highlights but includes
just more moments and memories from the day. Includes 5 songs chosen by you.
Enquire
FULL LENGTH DOCUMENTARY EDIT $600
1 - 2hrs in length.
Includes your full ceremony and reception formalities.
READ MORE
Filming and Raw Footage
There is nothing like sitting and watching the whole wedding day from start to finish.
-
This wedding video is edited in chronological order. All the good parts are left in and include's the live audio mixed with your choice of music.
It includes the full length of the ceremony and reception formalities.
Enquire
RAW VIDEO FILES $250
SUPPLIED ON HARD DRIVE
READ MORE
RAW VIDEO FILES
This can be a good option if you want to keep your wedding footage to edit or archive for the future. Once the raw footage is deleted you will lose it forever as I can't keep the footage around for a long period of time after your wedding. So if you think you might like to keep all your raw video files for the future then select this option in your package.
You can always add this option after your wedding day when your final videos are ready.
Enquire
FILMING AND RAW FOOTAGE
Looking for just coverage of your wedding day with no editing?
Ceremony and Reception included.
Limited dates available.
READ MORE
Filming and Raw Footage
This package includes:
Video Coverage of your day based on how many hours are required.
-
One long video that is lightly edited that includes the raw footage from the day in chronological order. It includes the live camera audio from the day and clear audio from the ceremony and reception formalities.
-
Enquire
CEREMONY COVERAGE
Looking for just coverage of just your ceremony?
Limited dates available.
READ MORE
JUST THE CEREMONY
This package includes coverage of your wedding ceremony from multiple cameras and audio recorders so you can relive this special moment for years to come.
It's beautifully edited in chronological order of your ceremony and includes the full length, cut between multiple cameras to the music you used on the day.
-
Enquire
CUSTOMISED WEDDING PACKAGE
Not finding what you want?
I can customise my filming or editing to suit what you are after.
READ MORE
CUSTOMISED WEDDING PACKAGE
Some clients want something a little different or their wedding is super extra special so it requires a customised package.
I am happy to work with you to figure out just what we need to do so I can capture your wedding day just like you want to.
Enquire
Check to see if I'm available for your wedding date.
To maintain a quality service I limit how many bookings I take on. 
If your date is blank I should be available
Am I available for your wedding? (i hope so) 🤞
If I am available contact me via the links below.
Contact Me
Call Me
Booking Process
If you would like to book me to come and film your wedding a $500 deposit will lock in your wedding date.
The balance payment is due 2 weeks before your wedding date.
What happens if my wedding times change?
Don't worry if your wedding timeline changes my packages are flexible and all we need to do is either adjust my start and finish times or add/take away hours.  Or if you want to change what videos your package includes we can do that too.
We would like to meet you before we book.
Yes that is a great idea.  I strongly advise my clients to not only meet up with me but to also meet their other wedding providers and who will be actually there on the wedding day.
I have seen things go terribly wrong when the client had never met their photographer and not only was he a jerk he just didn't care as it wasn't his company and he was just some photographer to fill the booking.
---
More Information.
Steven Beck Media has been the choice Melbourne wedding videographer for over 450 brides.
Located in the outer Northern suburbs of Melbourne I service pretty much anywhere. But I do  like weddings in the Yarra Valley, Sorrento, Mornington Peninsula, Dandenong Ranges and Gippsland.
I often meet wedding clients at a central location like a cafe or bar.  Or if the distance is too great Skype or Facetime works well.

No content was found for the current ursername(s) and/or hashtag(s).
QUESTIONS?
If you have any questions please ask.  Or chat to me via FB messenger.
Call
Email

All Wedding Video Packages Include
---
Instagram/Facebook Clips
Receive 2 or 3 emotional or hilarious video clips to share with friends on social media.
---
Short Highlights
(2-3 mins)
Is a small snapshot of the day that includes some of the memorable moments.
Edited to one song.  Some talking from the day can be included.

Great for sharing on 

---
Highlights
(10-15 mins) 
It has a great balance of moments and memories from the day.  
It includes all the best bits of the day.  
It is edited using a time-shift editing style to 3 – 4 songs chosen by you.
---
Ceremony and 
Reception Formalities
Edited video of your full ceremony as a separate video file on your USB.
Edited videos of the formal parts of your reception.
Speeches, bridal dance, parents dance, traditional dancing.
As separate video files on your USB.
---
Uncut Raw Footage
All the raw footage is in one long un-edited video, so you can watch all the in-between moments. 
(the formalities also included but are edited between cameras)  
---
All videos supplied on a custom USB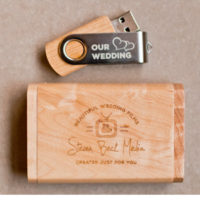 On the USB you will receive the following video files.
Instagram/Facebook Videos
Short Highlights
Highlights
Ceremony
Speeches and Reception Formalities