Welcome to Steven Beck Media.
I offer my clients a personalised and candid wedding videography service in Melbourne Australia.
My belief is to not charge you a fortune to then offer sales and gimmicks to entice you.
I just keep it honest, fair and affordable….all the time.
Packages Download
+/- Extra Coverage Hours $110
Travel costs may apply.
Package Add-ons

All Wedding Video Packages Include
---
Instagram/Facebook Clips
Receive 2 or 3 emotional or hilarious video clips to share with friends on social media.
---
Short Highlights
(2-3 mins)
Is a small snapshot of the day that includes some of the memorable moments.
Edited to one song.  Some talking from the day can be included.

Great for sharing on 

---
Highlights
(10-15 mins) 
It has a great balance of moments and memories from the day.  
It includes all the best bits of the day.  
It is edited using a time-shift editing style to 3 – 4 songs chosen by you.
---
Ceremony and 
Reception Formalities
Edited video of your full ceremony as a separate video file on your USB.
Edited videos of the formal parts of your reception.
Speeches, bridal dance, parents dance, traditional dancing.
As separate video files on your USB.
---
Uncut Raw Footage
All the raw footage is in one long un-edited video, so you can watch all the in-between moments. 
(the formalities also included but are edited between cameras)  
---
All videos supplied on a custom USB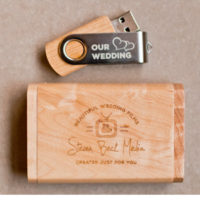 On the USB you will receive the following video files.
Instagram/Facebook Videos
Short Highlights
Highlights
Ceremony
Speeches and Reception Formalities
Check to see if I'm available.
To maintain a quality service I limit how many bookings I take on.
Want to find out more?
CONTACT ME
SOME OF MY RECENT WEDDING FILMS. 
(note: the music in these videos have been changed from what the clients received to suit copyright laws)
Are you keen to see exactly what my past clients have received?  Contact me and I can show you.
---
More Information.
Steven Beck Media has been the choice wedding videography service for over 450 brides.
Located in the outer Northern suburbs of Melbourne I service pretty much anywhere. But I do  like weddings in the Yarra Valley, Sorrento, Mornington Peninsula, Dandenong Ranges and Gippsland.
I often meet clients at a central location like a cafe or bar.  Or if the distance is too great Skype or Facetime works well.
QUESTIONS?
If you have any questions please ask.  Or chat to me via FB messenger.
Call
Email